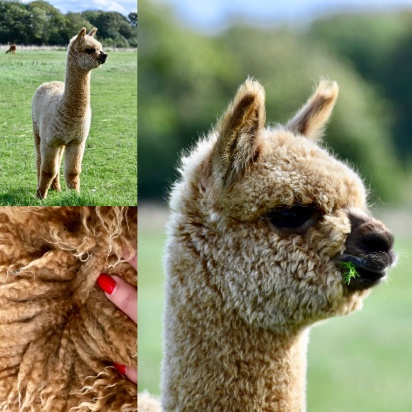 OBS!!
Haltershowen 4 April 2020 Axevalla inställd pga Coronavirus.
Ej över 500 personer på samma plats
&
Domaren Jude Anderson USA är hindrad av USAs Presidents nya direktiv angående flyg till Europa under minst 30 dagar.

Vi kommer alltid sätta säkerhet först och följer gällande restriktioner från vår Regering

Vi beklagar samtidigt som vi jobbar på att verkställa en show under 2020!
Domare: Jude Anderson, se presentation nedan.
Plats: Axevalla Travbana, (stora körhallen)
Datum: 4 April, (ankomst 3 april)
Föranmälan sker senast 31 december: Ange endast antal ston/hingstar till info@alpacaclubsweden.se
Betalning: BG: 387-6885

ACS önskar Er alla hjärtligt välkomna!
EN EXCLUSIVE GLIMT AV 2020
Det är med stor glädje Alpaca Club Sweden presenterar ACS Haltershow 2020.
Boka en fantastisk helg med trevlig gemenskap och Alpackan i centrum!
Domare: Jude Anderson, se presentation nedan.
Plats: Axevalla Travbana, (stora körhallen)
Datum: 4-5 April, (ankomst 3 april)
Mer info om denna show kommer i Januari!
ACS önskar Er alla hjärtligt välkomna!

Jude Anderson
15204 SW Muddy Valley Rd
McMinnville, OR 97128
phone (971) 237-7004
Senior Judge and Judge Trainer for all Certifications
Certifications
Huacaya Halter, Suri Halter, Fleece, Walking Fleece
Jude Anderson, along with her husband, Alan Cousill, has been breeding alpacas since 1991, in both Australia and the US. Currently, they own and breed alpacas in the US, a herd of quality suris and huacayas at Pucara International, a beautiful 105 acre farm at McMinnville, Oregon.
In 1994 Jude left school teaching to concentrate fully on the breeding and animal care of alpacas at Pucara Alpaca Stud in Australia.
An AAA judge since 1998, Jude gained AOA certification in 2002 and senior judge and judge trainer/instructor status in 2005. She also certified at the IAJS judging school in Peru in 2000. Since 1998 Jude has judged in Australia, USA, Canada, New Zealand, the UK, Sweden, and Norway. She is involved in the development and teaching at both halter and fleece judging clinics and works with apprentices to develop their skills. She has also trained British Alpaca Society judges in the UK.
Currently, Jude is Chair of the AOA Judges Advisory Committee and a halter liaison to the AOA Show Rules Committee.
Alongside Cheryl Gehly, Mike Safley, and Amanda VandenBosch, Jude authored The Art and Science of Alpaca Judging, a comprehensive judge training text also used extensively by alpaca breeders worldwide. Jude has also conducted seminars and spoken in Australia, New Zealand, Canada, USA, UK, and Germany on topics including breeding, reproduction and alpaca husbandry, alpaca fiber, conformation, selection, genetics, and nutrition.